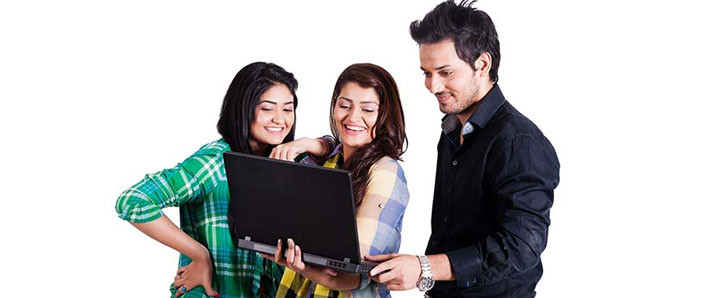 Most students coming out of college do not have a proper choice when it comes to selecting a career. Many of them join the fields of BPO, Call Centre, Sales, Collection, Customer service etc without an option, but the big question is – Do they like what they are doing & where they are headed with their career?
We would like to mention few high growth areas (related to our courses), which could be a wonderful choice for aspiring students – Graphic designing, Web Designing & Development, UI UX designing, SEO, Digital Marketing, Android app development etc.
The following are the reasons why we call them 'a great career choice'.
Huge demand – Multimedia industry is going through an excellent growth phase all across the globe, while statistics reveal that India would need atleast 2,00,000 multimedia professionals in the next 2 years. Graphic designers, Web designers, Digital marketers, SEO analysts, Android developers etc are going to be in great demand in the next few years.
Easy to learn – All the above-mentioned courses are very easy to learn, unlike other software programs that involve heavy coding. Even those who are not very familiar with computer programming can understand these courses, and this is a big benefit for students without IT background.
Excellent salary & growth opportunities – The starting salary can be in the range of 12-20k & it depends on the skill of the student & his choice of industry. The growth opportunities are excellent in this field, where most would climb the corporate ladder very fast to get a salary on par with their IT friends within 3 years.
Freelance jobs – A big plus in choosing any of these fields could be that you can earn a substantial amount of money by doing freelance jobs after your work hours & during the week ends. There are so many foreign projects in Graphic designing, Web designing, App development & SEO, which pays on an hourly rate and it can become a sizeable income for you, if you choose few right clients.
Multiple Job Options – A course in these fields can throw open a lot of job openings for the students, from which he/she can select the best one. For instance, the choice of industry can be from eLearning, Print & Publishing, Web designing companies, Advertisement agencies, ePublishing, Web application development, Internet content providing companies & a lot more. All these are fast growing fields & the candidates can enjoy rapid professional growth alongside them.
So, what are you waiting for? Pull up your socks & join the courses of Graphic design, Web design & SEO at the best institute in Chennai – Web D School.